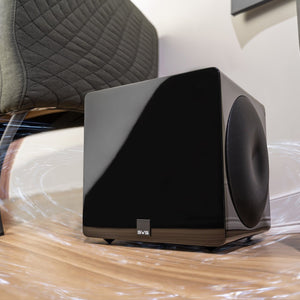 SVS 3000 Micro
Reference Subwoofer Performance Just Went Micro.
Chest-pounding, musical bass with depth, slam, and impact, from a shockingly compact 10-inch cabinet. Many micro subwoofers have tried, all have failed. Until now. The miniature yet mighty SVS 3000 Micro subwoofer seamlessly blends into any room and speaker system, energizing the space with astonishingly rich, effortless bass that's all the more impressive given its micro-sized enclosure.

Featuring innovations from the reference SVS 16-Ultra subwoofers married to fully active dual opposing 8-inch drivers, and an 800 watt RMS, 2,500 watt Peak Power Sledge STA-800D2 amplifier with discrete MOSFET output, 3000 Micro delivers performance that obliterates every micro subwoofer that has come before. It also features the powerful SVS subwoofer control smartphone app for advanced tuning and DSP. Finally, a micro subwoofer worthy of the name SVS.
Subscribe to the bass-lovers newsletter
Stay up to date with all the latest news from SVS.